Welcome to The Anticareerist on Substack!
Welcome to the new home of The Anticareerist - as a periodical! (It's still a blog as well.)
I'm D. JoAnne Swanson, aka Danica, founder of The Anticareerist and its predecessor projects.

In the years since its inception, the project has shifted through several iterations, name changes, and online homes.

Founded in 1998 as my brainchild under the name Creating Livable Alternatives to Wage Slavery (CLAWS), it began its first iteration as an in-person support group in Eugene, OR.

In 1999 I launched CLAWS as a pro-leisure and anti-wage-slavery website at whywork.org. Shortly afterward, Sarah Nelson of the UK-based Leisure Party site granted me permission to merge her site with mine. I also started an associated e-mail discussion list, which I moderated for several years, and which became well-known and respected for the quality of discussions that took place there. CLAWS became influential in those early years of the web.

In 2004 I took leave of whywork.org, as I was unable to spare the necessary time and funds to maintain it. John O. Andersen, a blogger for Unconventional Ideas, filled in for me at whywork.org for awhile, but could not continue. Around that time I released ownership and control of the site to Gordon Katz, owner of Katz Global Media. He launched a Why Work web forum on the site that became fairly popular and remained so for several years until the admin abandoned the forum. The site (but not the forum) remained online in a static form through the end of 2017. Unfortunately, the forum was never revived, to the dismay of its devoted members.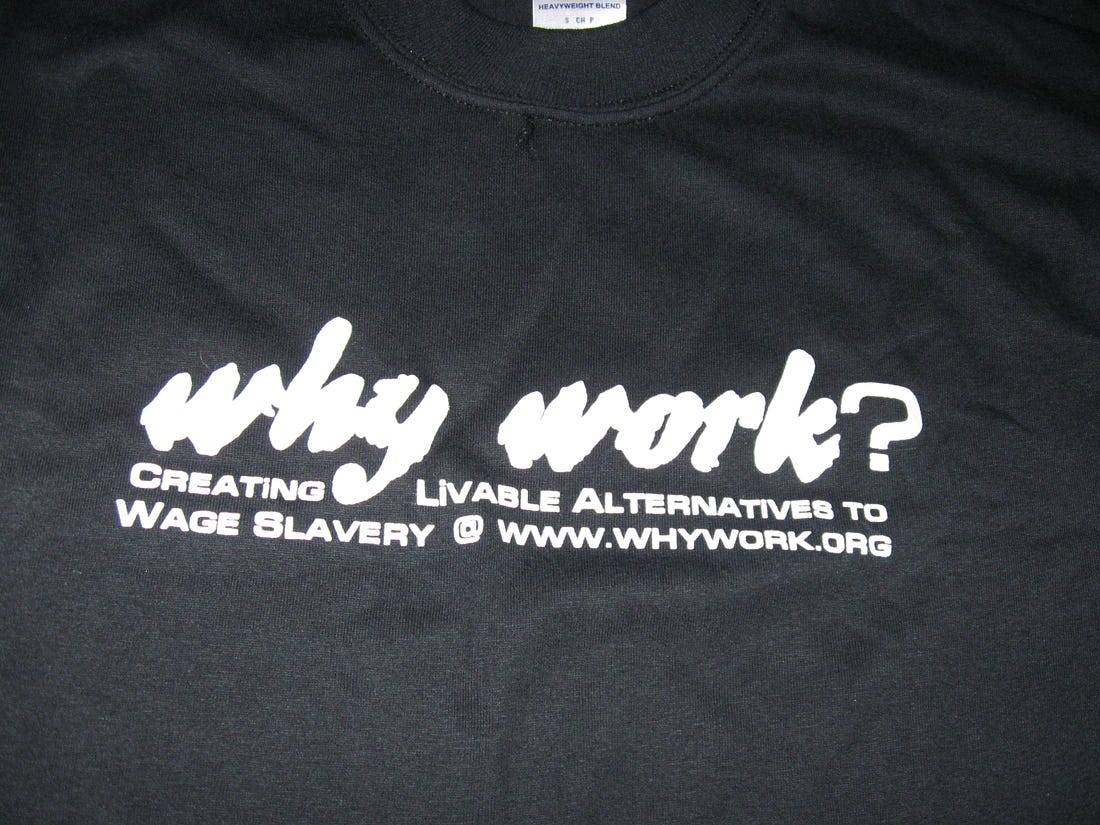 To explore the project's early history, you can use the Wayback Machine at archive.org to read the farewell letter I wrote in 2004, examine the changes archived by date, browse the site as it was just before I gave up control over it, or see it as it appeared after the final design change was made by the new owner. (Though do keep in mind that my thinking on these matters has changed a great deal in the twenty years I've been working on this project!)
In 2010 I launched Radical Unjobbing, a new blog to continue where I left off with CLAWS. In 2011 I changed the name of the blog to Rethinking the Job Culture, and launched an associated Facebook page that is still active.

Unjobbing is a neologism taken from Michael Fogler's 1996 book Unjobbing: The Adult Liberation Handbook.
In 2017 the project finally settled on its ideal name: The Anticareerist. Anticareerist is a neologism adopted via writer Kate McFarland, who gave her permission to use it for this project.

Rethinking the Job Culture is still a fairly apt description of my focus for this project, but it's ambiguous, and it's a mouthful to say in interviews. The Anticareerist is pithy and playful, and the meaning comes across more clearly to people who are unfamiliar with the project. Playfulness is helpful when engaged in the kind of deep-dive rethinking, emotional excavation, and culture change I aim for with this project.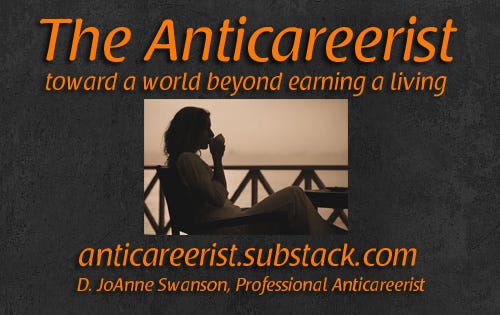 Now that The Anticareerist has found its home as a blog and periodical, I'm ready to pursue some ambitious plans. I aim to make The Anticareerist into exactly the kind of publication I wanted so desperately to read - but could never find - back in the 1990s when I started out exploring radical "anti-work" writings. (I've always taken pains not to use the phrase "anti-work" to describe this project, because it's not accurate.)

After I completed baccalaureate degrees in psychology and philosophy, I applied to graduate school in philosophy, hoping to embark upon some sort of interdisciplinary study at the intersection of feminist philosophy, cognitive psychology, systems philosophy, leisure studies, and sociology of labor. I found no school, program, or mentor anywhere in the US that would permit me to study what I wanted: critical theory about the Puritan work ethic, leisure, and the concept of "earning a living." No such "field" as the one I yearned to study even existed, so I had to navigate my intellectual obsessions solo, and do all the legwork on my own. Hopefully all those years I spent in public and university libraries, tracking down quotes and ferreting out obscure books, can now be applied more directly for the benefit of other anticareerists.

I figure I'm justified in adopting the oxymoron "professional anticareerist" after 20 years of study in a field of my own design, tongue-in-cheek though it may be.
(I'm amazed that my nerd interests managed to survive my years in academia. I'm an autodidact at heart anyway, and a life-long bibliophile. I'd never go back.)

If I'd foundThe Anticareerist (or any of its predecessor projects) back then, I would have been overjoyed.

I hope you enjoy the results.
---
Dear readers: This is an all-access issue of The Anticareerist. If you appreciate my writing, I hope you'll consider a paid subscription at $5 per month, or $50 annually. Subscribers who choose the paid tier enable me to spend more time on writing and publishing The Anticareerist. More paid subscriptions = more writing time for me = more for you to read. That's the best kind of positive feedback loop!
However, there's no advertising, no pressure, and no guilt-tripping. You can start in the all-access tier and switch over to the paid tier later on, or stick with the all-access tier indefinitely. The choice is yours, according to your budget and interest level. Both subscriber tiers will get something to read every month, and I'm happy to be able to share my writing with you either way. You can unsubscribe at any time.
Subscribers in the all-access tier receive a minimum of one newsletter each month. Paid subscribers receive additional exclusive material, including special draft excerpts from On The Leisure Track: Rethinking the Job Culture as progress on the book manuscript continues.

As I wrote in "Why I Switched From Patreon to Substack," Substack offers writers what Bandcamp offers musicians: an easy way for audiences to pay artists directly for their work. Substack's direct subscription model links readers and writers in a relationship of mutual trust.

Here's an outline of what I write about:
Notes To Self is a personal narrative letter series delivered by my inner council, offering guidance along the path toward being the change I wish to see in the world and the path away from "earning a living." Topics include non-doing, unlearning shame about "laziness," nurturing ancestral connections to motherlands, and more. The first and second letters in this series are all-access issues.
Get-A-Job Nonsense is a series in which I unpack and critique lazy bums rhetoric, do-what-you-love advice, the notion of financial independence, and other pernicious lies of job culture.
On Doing Nothing is a series of philosophical reflections on decolonizing time, non-doing, building a leisure ethic, leisure as resistance, and envisioning a culture of leisure.
The Deep Sorcery of Colonial Capitalism is a series in which I unpack and make visible the structural violence of "earning a living" and the ways it's normalized.
Feminist Valuation is a series making visible the unpaid and emotional labor that undergirds "earning a living."
The Anticareerist Bookshelf features book commentary and quotes focusing on unjobbing, dejobbing, and building a culture of leisure that can be accessible to marginalized people.
Slothy Awards is a series recognizing and appreciating writers for their contributions to my anticareerist thinking over the 20+ years I've been studying in this "field" toward a world beyond "earning a living." (Thanks to Heimlich A. Laguz of Elhaz Ablaze for the title Slothy Awards.)

You can subscribe HERE.
You can find out more about The Anticareerist and its author HERE.

Want to read back issues? An archive of all published issues is HERE.
You can also follow The Anticareerist on Twitter and Facebook.